Windy Point is for sale!
Posted: Wed, 13 Jan 2016 02:39 PM - 5,761 Readers
By: Jan Buchholz
A prime piece of Austin real estate is on the market — complete with colorful history, azure blue views and some of the best scuba diving access in these parts.
Windy Point Park is almost 12 acres on the shores of Lake Travis near Hippie Hollow — the nudists' beach — and upwind from the Oasis development, where sipping cocktails on the terrace at sunset is a not-to-be-missed experience. Windy Point Park isn't to be confused with the county's beach-like Bob Wentz Park at Windy Point, though they are next to each other.
In the Dec. 18 weekly edition of the Austin Business Journal, I'll have a detailed story about the property, the potential for development and the personalities involved. Owners think something big could be built there.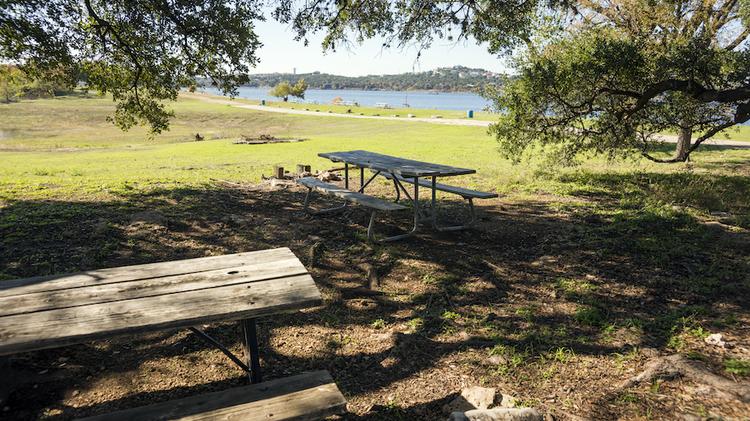 Lake Travis News
How Zebra Mussels Will Change Austin Lakes (And Maybe Barton Springs) Forever

Aug 17, 2017

1,465 Readers

Man seriously injured after 20 to 30 foot fall from cliff at Lake Travis

Aug 13, 2017

1,117 Readers

Lakeway City Park adds life jacket loaner station

Aug 11, 2017

867 Readers

Boater dies after hitting Lake Travis shoreline

Aug 1, 2017

1,269 Readers

No serious injuries after plane crashes into water at Lake Travis

Jul 22, 2017

1,251 Readers

Man injured in 30-foot fall over rocks at Hippie Hollow

Jul 15, 2017

959 Readers

Tow boat owner says plane wheels were down when it flipped into lake

Jul 13, 2017

1,109 Readers

Lady Bird Lake vegetation at risk after 'mass migration' of carp

Jul 11, 2017

907 Readers

Lake Travis 'infested' with invasive, damaging zebra mussels

Jun 27, 2017

1,000 Readers

Scuba divers scoop for lake trash after Memorial Day festivities

May 30, 2017

1,788 Readers
Here's why you can't swim in Lady Bird Lake. Wait — you can't swim in Lady Bird Lake?

Aug 8, 2017

1,136 Readers

5 Ways to Try Paddleboarding in Austin

Aug 4, 2017

996 Readers

Why Is Hippie Hollow Clothing-Optional?

Jul 31, 2017

1,222 Readers

JAWS on the Water - Friday, June 30th

Jun 27, 2017

1,753 Readers

Memorial Day Weekend watercraft ban on Lake Austin

May 25, 2017

1,879 Readers

Travis County officials prep for Memorial Day weekend on Lake Travis

May 23, 2017

1,683 Readers

West Austin 4-H Offers Opportunities Beyond Just Raising Animals

Aug 9, 2016

7,436 Readers

Large Crowds Expected at Lake Travis For Holiday Weekend

Jul 1, 2016

9,272 Readers

Lady Bird Lake businesses back open for Father's Day

Jun 19, 2016

6,875 Readers

Boats allowed back on Lady Bird Lake starting noon Thursday

Jun 16, 2016

7,612 Readers
Lake Buchanan rises nearly 8 inches due to rain

Aug 8, 2017

1,420 Readers

One floodgate open at Starcke Dam

Aug 7, 2017

1,256 Readers

Driving on RM 620, I see islands sticking out of the lake. Is the drought returning?

Jul 14, 2017

1,805 Readers

West Travis Co. residents clean up after heavy storms

Apr 3, 2017

2,327 Readers

WATCH | Possible tornado/water spout spotted on Lake Travis

Apr 3, 2017

2,914 Readers

Aerosols Strengthen Storm Clouds, According to New Study

Jun 14, 2016

7,336 Readers

National Weather Service : Why You Shouldn't Drive During a Flood

Jun 10, 2016

7,444 Readers

LCRA will be in flood management mode for coming weeks

Jun 4, 2016

7,800 Readers

How high could Lake Travis rise near Austin?

Jun 3, 2016

7,766 Readers

LCRA stands ready as more rain is expected in Central Texas

Jun 2, 2016

8,283 Readers
Several newcomers already set to play for Texas in 2017

Aug 7, 2017

1,030 Readers

PGA to Austin: We had lots of fun, so let's do it again in 2017

Apr 1, 2016

8,877 Readers

Jordan Spieth Off To Good Start In Austin Return

Mar 24, 2016

8,419 Readers

Katy vs Lake Travis game makes the list!

Jan 13, 2016

8,184 Readers

Game of the week: Lake Travis (7-0) at Westlake (7-0)

Oct 19, 2015

9,799 Readers

Lake Travis repeats as regional golf champions

Apr 17, 2015

10,500 Readers

Lake Travis' Bacon ties national HR record

Mar 14, 2015

11,331 Readers

Westlake, Lake Travis sweep District 14-6A awards

Mar 11, 2015

11,487 Readers

Cavs mountain bike team claims state title

May 8, 2013

15,354 Readers

UIL golf championships have been big for area players, schools

May 1, 2013

14,269 Readers
City looking for help to curb storm drain pollution

Aug 5, 2017

1,216 Readers

Apache Shores features waterfront views, trails, park

Jul 14, 2017

1,014 Readers

10-year Mansfield Dam rehabilitation project will keep Austin safe

Apr 27, 2017

930 Readers

Overflowing Lake Travis isn't all bad news for businesses

Jun 8, 2016

7,184 Readers

Lake Travis High School Graduation cut short

Jun 8, 2016

7,774 Readers

A full Lake Travis boosts local businesses

May 26, 2016

7,197 Readers

Texas lake businesses booming again after long drought

May 12, 2016

9,071 Readers

Lakeway's Schmidt Family Barbecue restaurant to shutter its doors by fall

May 11, 2016

7,333 Readers

Lake Travis Fire Rescue begins fleet overhaul

May 6, 2016

8,091 Readers

Gnarly Gar fighting to stay in new building on Lake Travis marina

Apr 19, 2016

4,806 Readers
Modern guesthouse tower adds space, views to lakeside cabin

Sep 28, 2017

729 Readers

A Striking Sanctuary in Texas Inspired by a Sand Dollar

Aug 8, 2017

1,056 Readers

Contemporary Architectural Masterpiece on Lake Austin

Jul 30, 2017

1,063 Readers

Lake Austin mansion with a Romeo and Juliet balcony, including dramatic backstory

Jul 28, 2017

842 Readers

Midcentury-modern home overlooks Lake Austin, Pennybacker Bridge

May 27, 2016

7,089 Readers

Lake Travis Waterfront Retreat Offered by Heritage Luxury Real Estate Auctions

May 18, 2016

7,375 Readers

In Lago Vista, big dreams for $68 million ranch property

May 14, 2016

7,438 Readers

This Texas Barn Mansion on Lake Travis is Out of This World

May 6, 2016

8,661 Readers

Rockmoor Estate $35 million Austin mansion up for sale

Apr 19, 2016

4,548 Readers

Jan 13, 2016

5,761 Readers
News Archives 2016 - Select a Month